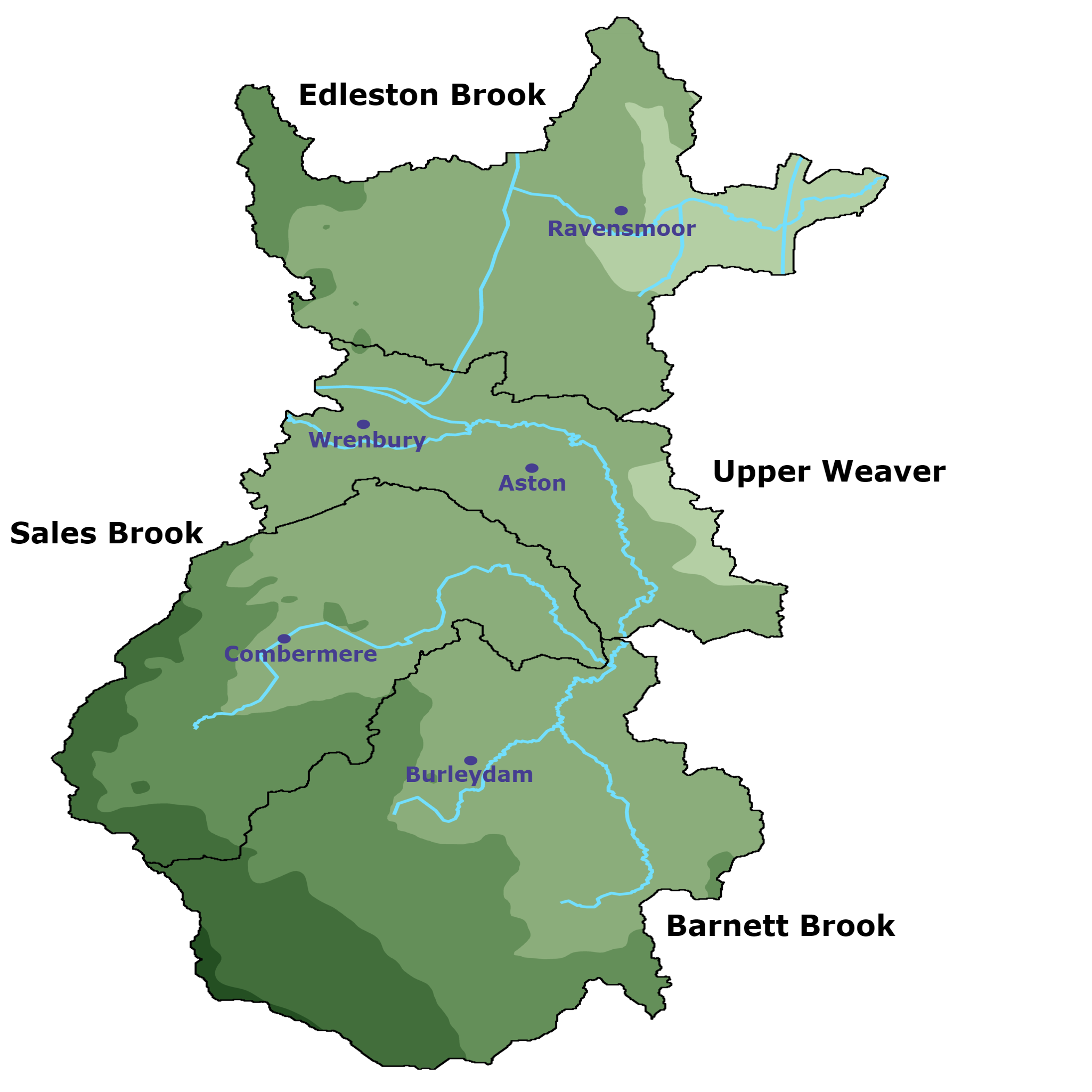 Are you aware of how important your local waters are for wildlife, water, business and communities?
The Sales, Edleston and Barnett Brooks are all tributaries of the River Weaver.
The River Weaver provides:
One of the UK's most significant populations of freshwater eel and important habitat for protected species including water voles, otters, and crayfish.
Nationally important waterways including the Weaver Navigation which are currently undergoing regeneration across business, leisure and tourism sectors as a result of the rich and vibrant heritage they offer.
Positioning Rivers at the heart of economic regeneration has resulted in a dynamic and proactive Weaver Gowy Catchment Partnership, committed to improving the health of Rivers for the benefit of all.
We need your help to turn things around for your local wildlife, businesses and communities who all benefit from GOOD water quality in your local rivers.
The Sales, Edleston and Barnett Brooks are suffering from poor water quality due to high sediment and nutrient loading, particularly phosphates, which are present in fertilisers, manures and domestic sewage. This has a negative impact on the local ecology and also affects the water quality of the River Weaver. In particular:
The Upper Weaver, Barnett and Edleston Brooks have POOR phosphate levels and are showing little sign of improvement.
The Upper Weaver, Barnett and Sales Brooks have POOR macrophyte and phytobenthos populations meaning little  biodiversity in the watercourses.
The overall status off all three brooks is not currently meeting the required Water Framework Directive standards.
Our catchment advisors will be working in these catchments to help you improve the water quality in the brooks.  By working with farmers and landowners to minimise sediment and nutrient losses into the watercourse we hope to tackle the key failing elements, to meet the GOOD ecological status required by the Water Framework Directive.
Catchment Offers
FARM INFRASTRUCTURE and IMPROVEMENT support. Contact your project officer at Reaseheath College for more information about financial support for fencing, water supply, feeding/drinking areas, watercourse crossing, dirty water separation, sediment management and more…
SOIL TESTING and NUTRIENT MANAGEMENT PLANNING
FREE Soil and manure sampling and nutrient management planning available
COUNTRYSIDE STEWARDSHIP agreements and WATER QUALITY grants. Our project officer can assess your potential for Natural England's Mid-Tier, Water Quality and Boundary Grants and assist in the application process.
Black Poplar Planting, FREE Trees and guards available along watercourses.
---
Please get in touch if you think you may fall within these Catchments as funding and nutrient management planning assistance and free soil and manure testing may be available.
Contact our Farm Environmental Services office today to see how we can help your farm business:
Farm Environmental Services
Reaseheath College
Nantwich
Cheshire
CW5 6DF
Phone: 01270 613195
Or Rachel Price the Farm Environmental Services Advisor who is overseeing this project for RADA
Rachel Price
Email: rachelp@reaseheath.ac.uk
Mobile: 07976 364730