Level 3 Diplomas in
Agriculture
Leading to an Advanced Technical Extended Diploma or Advanced Technical Certificate
Our established three-year Advanced Technical Extended Diploma is equivalent to three A levels and designed to fully prepare you for a career in the agricultural industry.
You will gain industry relevant theoretical knowledge in classroom sessions and practical experience on our farm's commercial units and at other successful local farms.
In your final year you'll specialise in dairy production, mechanised arable crop production or beef and sheep production.
Advanced Technical Extended Diploma
What will I study?

Animal husbandry, health and welfare
Crop husbandry
Agricultural science
Environmental issues and DEFRA legislation
Business planning
Machines operation and maintenance
Spreaders and sprayers
Overseas study tours
Practical skill instruction
Functional Skills or GCSE in English and Maths depending on previous qualifications
You will have the opportunity to work towards additional NPTC qualifications
You can follow one of four pathways:
Dairy production
Mechanised arable production
Beef and sheep production
Farm business
How long will it take?
3 years, year 2 spent in industry, full-time
What qualifications do I need to start?
At least 4 GCSEs at grade 4 or above including English, Maths and Science, or
Level 3 Apprenticeship in Agriculture with GCSE or Functional Skills Maths and English
What qualifications will I gain?
Course options after this programme
Career options
Farm manager
Crop agronomist
Breeding advisor
Commercial sales representative
Head herds manager
Animal nutritionist
Advanced Technical Certificate
Additional qualifications
Your Reaseheath Experience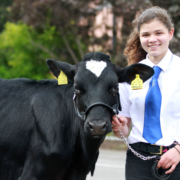 "I came to Reaseheath after GCSEs because I know I want to work in the agricultural industry and I'm keen to get on with my career. 
"I live on a dairy and sheep farm and I'm hoping that I'll be able to carry on the family tradition and be a successful farmer. My passion is for dairy cattle and I chose to study at Reaseheath because it has such a good reputation in that area. 
"I've learned a lot about different methods of herd management, particularly as the college has a robotic milking system alongside a traditional parlour so you can compare the two systems.   
"Living on campus means I've been able to make the most of the great social life and I've made loads of friends."