Burrow's Lane Equestrian Centre
Thanks to a successful partnership between Reaseheath's Equestrian Centre and Burrow's Lane Equestrian Centre, students in Merseyside now have the chance to study closer to home.
Burrow's Lane Equestrian Centre has excellent facilities, a good selection of horses and a team of professional instructors, lecturers and yard technicians.
We are a dedicated, professional and highly motivated team, possessing diverse professional experience and expertise. We feel very passionate about developing conscientious students who are industry ready. The centre works hard to ensure the wellbeing of all visitors, horses and staff, this is something that extends to our students.
The equine education and experience gained at Burrow's Lane gives you the opportunity to be involved in the everyday running of the equestrian centre. This simulates a real working environment, greatly enhancing your employability skills.
Alongside the quality facilities and real industry experience, the centre offers an insight into various other aspects of the equestrian industry. The on-site shows, home produced horses, on-site training programmes and regular contact with industry professionals, will allow you the opportunity to learn and develop new skills as well as identify what career path you would like to follow when leaving college.
At Burrow's Lane Equestrian Centre you have the opportunity to study either a KS4 course, a traineeship, an apprenticeship, a Level 1 Diploma in Horse Care, Level 2 Technical Certificate in Equine Care, Level 3 Diploma in Equine Management or a HND Animal Management (Equine Management).
Find out more about studying at Burrows Lane Equestrian Centre –
A tour of the facilities at Burrows Lane Equestrian Centre –
If you need any further assistance please contact us:
Burrow's Lane Equestrian Centre, Burrows Lane, Eccleston, Prescot, L34 6JQ
An insight into what some of our students have got up to on work experience in 2021 –
Sophie Jopson
Galloping to the finish
Sophie Jopson
Level 3 Extended Diploma in Horse Management – Year 2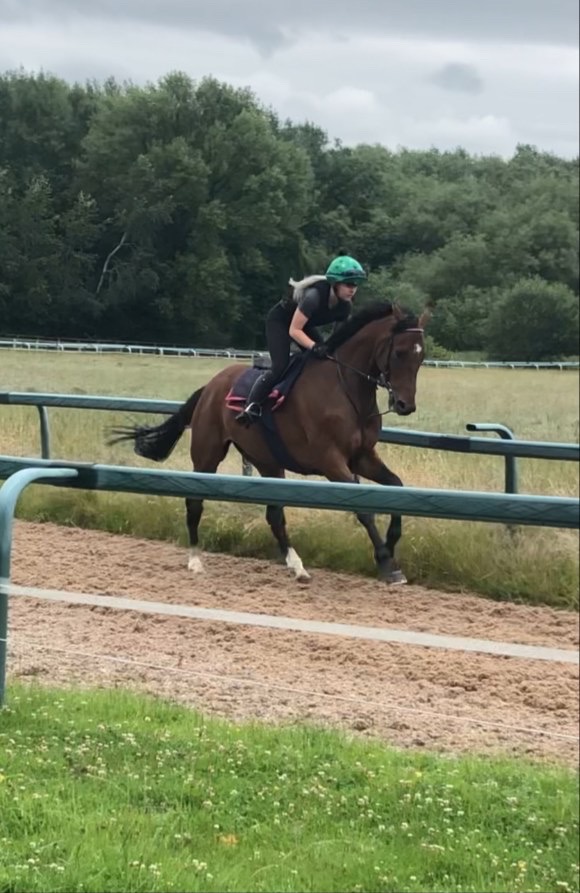 During my time at Burrows Lane, I have been studying a Level 3 Extended Diploma in Equine Management and during my course I had to undertake 350 hours of work experience. I have been fortunate enough to always have owned my own horses and have been asked to ride and work for various parts of the equine industry, including showing and stud farms. The one part of the industry I had never been a part of was racing. I had never been a big lover of racing but I wanted to really gain something from my work experience to open my eyes to all the equine industry has to offer like we regularly talk about in college. I decided to complete my work experience on a racing yard that was very close to home called Blythe Hall Stables. I was lucky enough to know someone that works there currently so she was able to pass my details on and tell the trainer about my previous experience, my attitude and dedication to working with horses.
On my first day I was able to watch the current work riders out on the gallops, help get the horses tacked up, learn how racing tack is different to the tack I have used and put them on and off the walker. I was also able to learn about how feeding racehorses is different to the horses I own and have previously worked with. I was then able to link this into my feeding assignments in college. On my second day I got the opportunity to ride one of the racehorses in the indoor school with two others, which helped me get the feeling of the racing tack and what it's like riding a racehorse in full training! I have been very fortunate to be welcomed back to complete my 150 hours of work experience and it has completely changed what I have wanted to do with my career. I have also loved being able to talk about my experiences in college and linking our work back to working with the racehorse.
Over the summer (2020) I spent most of my days riding various horses on the gallops, going on beach trips, visiting Kelsall Hill gallops and getting horses ready and prepared to go racing. I have been given all of these amazing opportunities thanks to the amazing staff and owners at Blythe Hall Stables for taking me under their wing and teaching me how to ride a racehorse correctly whilst enjoying every second of it, and also Burrows Lane staff for doing a set up visit and encouraging me to stick to what I love doing!
"Sophie has been working at Blythe Stables for around 15 months, she is competent in all aspects of stable duties involving the racehorses and she has gained experience in riding racehorses on and off the gallops. Sophie is always enthusiastic, hardworking and willing to learn!" – Christopher Kellett