Level 2 Certificate
Equine Hydrotherapy Assistants
This unique, industry focused course is specifically dedicated to equine hydrotherapy and provides an exciting introduction to one of the fastest growing areas in the equine industry. This exclusive partnership offers an exciting opportunity to learn both at college and at Rookery Equine, one of the country's leading Rehabilitation, Fitness and Therapy Centres.
This qualification has been developed to support industry demand for standardisation and regulation within the equine hydrotherapy sector and is endorsed by the Institute of Registered Veterinary and Animal Physiotherapists (IRVAP) and the Institute of Equine Hydrotherapists (IEH). It offers ideal preparation for new entrants or as professional development for those already working with horses or considering a career change and contributes to IEH membership criteria.
Course includes
What will I study?
The following units are mandatory:
Introduction to Equine Hydrotherapy
Introduction to Equine Health and Welfare
Introduction to Equine Anatomy and Physiology
Introduction to Equine Evolution, Domestication and Behaviour
Assist with the Application of Equine Hydrotherapy
Introduction to Customer Care
Equine related Work Experience
Introduction to Equine Hydrotherapy Plan and Equipment Maintenance
Functional Skills or GCSE in English and Maths depending on previous qualifications
You will also study for relevant secondary qualifications and College Certificates, including Equine First Aid.
How long will it take?
What qualifications do I need to start?
A minimum of 4 GCSEs including maths, English and science and one other subject at grade 3 or above.
Prospective students will be assessed at Reaseheath's Equestrian Centre and must show a minimum skill level before being allowed to join the course. This qualification is pass/fail. Assessment includes:
Internal assessments
External assessment (Anatomy and Physiology unit)
Internal and external moderation
Portfolio of evidence for work experience
What qualifications will I gain?
Course options after this programme
Your Reaseheath Experience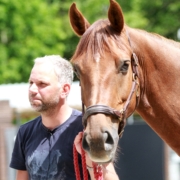 "Hydrotherapy is growing in popularity among top level riders because you can keep your horse fit and competition-ready without putting too much pressure on their legs. I'm using it regularly during my final preparations for the Tokyo Olympics."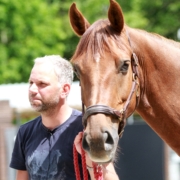 Carlos Parro, Brazilian Olympic event rider
"Hydrotherapy is growing in popularity among top level riders because you can keep your horse fit and competition-ready without putting too much pressure on their legs. I'm using it regularly during my final preparations for the Tokyo Olympics."