Five good reasons for you to become a next generation farmer at Reaseheath
There are tremendous opportunities ahead in food production for a growing population
You'll be in the front seat when it comes to meeting the challenges of global food, water and energy security
Food and agricultural production are the UK's fastest growing industries, contributing more than 15% of all manufacturing output and employment
Look at global food and farming systems by joining our annual international study tour
You'll have the power and opportunity to make a real difference by protecting the environment and supporting sustainable production and lifestyles
Tell me more!
Want to develop your farm management skills and business techniques, backed up by in-depth, science based knowledge? Look at our Foundation Degrees in Agriculture (Dairy Herd Management or Mixed Farming) by clicking on the tabs below.
Agriculture with Dairy Herd Management
Reaseheath is situated in the premier dairy county of Cheshire, so it's no surprise that we have a national reputation for our specialist dairy training. As a Dairy Herd Management undergraduate you will develop an understanding of technical, economic, legal and managerial principles, identify and solve environmental and ethical issues and gain relevant practical skills.
We'll also help you gain industry recognised qualifications such as certificates in foot trimming, veterinary medicine and Artificial Insemination and you'll enjoy study trips abroad and in this country, looking at farming on a global scale.
Agriculture with Mixed Farming
QAA checks how UK universities, colleges and other providers maintain the standard of their higher education provision. Click here to read this institution's latest review report.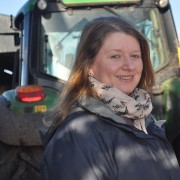 Sharon Appleby
Foundation Degree in Agriculture
When Sharon Appleby decided to seize the opportunity to take over the tenancy of the family farm, she turned to Reaseheath for help.
She says: "The opportunity was too good to miss, but to take on the tenancy I have to prove that I can farm. Gaining a recognised qualification was an important criteria. The training and support I received at Reaseheath was invaluable, increasing my confidence and my ability to take a broader approach to the business.
"Our visits to farms offsite gave us an insight into how other people solve problems. The business modules were really important too. I now understand how to present business plans to people like our bank manager and farm business advisor.
"I've also gained a greater understanding of health and fertility issues within the herd which I can now discuss with our vet in more detail."