Gary Dickinson discusses the challenges of rehoming reptiles
Earlier this year Gary Dickinson, the co-founder of North Wales Reptile and  Raptor Sanctuary (RHES's chosen charity), visited the College to talk to our members and discuss the problems he is facing in trying to rescue and rehome unwanted reptiles and raptors. He often receives phone calls and emails from keepers that no longer want their pets for whatever reason and he is rapidly running out of space to house them in.
During his talk Gary asked RHES members their opinions on several issues, including whether or not larger snake species (reticulated pythons, Python reticulatus, for example) should be kept in captivity. This has recently become a controversial topic as many keepers, despite their best intentions, cannot successfully keep these snakes  due to space and time restrictions.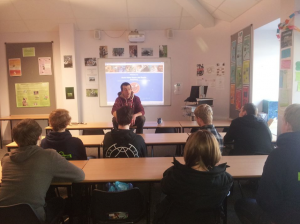 He also discussed the quality of pet shops around the country that are selling exotics and how many of which should not, in his opinion, be licensed to do so due to poor welfare (etc.) of the animals in these shops. His past experiences in this profession were also discussed during the meeting.
We would like to thank Gary for taking the time out of his already busy schedule to come down and visit us, despite less than favourable weather conditions, which meant many members couldn't get to the College to attend. We also hope that our fundraising efforts  bring about a lot of well-deserved and greatly  needed funds for his efforts at the sanctuary.
 Ray Reynolds
RHES Committee member
https://www.reaseheath.ac.uk/wp-content/uploads/2015/07/RHES-members-joined-by-Gary-Dickinson-1.png
645
865
Sophie Tatton
https://www.reaseheath.ac.uk/wp-content/uploads/2019/09/reaseheath-logo-web-header-1.png
Sophie Tatton
2015-04-20 12:29:23
2015-07-10 12:32:37
Gary Dickinson discusses the challenges of rehoming reptiles