Horse behaviourist Richard Maxwell gives insight into training
Renowned Horse Behaviourist Richard Maxwell  gave audiences at Reaseheath Equestrian Centre a fascinating insight into his training methods and philosophies.
Richard, who is a qualified Masterson Method Practitioner, combines a unique blend of natural and traditional horsemanship in order to help horses and their owners. His many clients hail from all equestrian disciplines and include international event rider Sharon Hunt and dressage star Matt Frost.
Richard began his career as a riding instructor in the Household Cavalry where his own introduction to 'natural horsemanship' came through a chance meeting with the legendary Monty Roberts.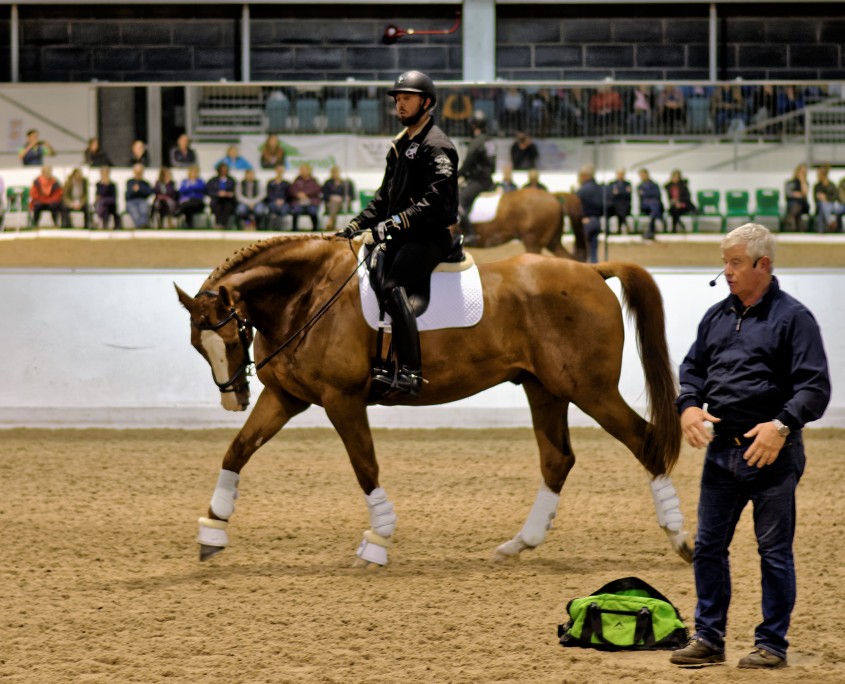 Said Richard:  "In 1988, Monty came to the UK to give a demonstration for the Queen. I gleaned so much from his knowledge and found it  interesting how you could take something from a different  style of equitation, such as western or rodeo, and introduce this into 'mainstream' training."
Richard's holistic approach has also been inspired by experts in the field of equine physiology such as Andy Andrews and Jim Masterson – founder of the 'Integrated Equine Performance Bodywork' system.
Richard explained: "Andy Andrews helped me to appreciate how physiological problems can contribute heavily to behavioural issues. On meeting Jim Masterson, I was able to put a few more pieces into the jigsaw puzzle and I now feel that I have a fuller picture. I can now help horses physiologically as well as through behavioural training."
In front of a packed house, Richard worked with three very different types of horses ranging from a dressage horse with 'stage-fright' to a Welsh cob with loading problems.
Said Richard: "Any demo is only a snapshot and the answer to behavioural problems is never a quick fix. If I can get just one thing right that might help a horse, then the peripheral problems surrounding an issue may start to lessen."
Read more about Richard's demonstration here.
https://www.reaseheath.ac.uk/wp-content/uploads/2016/07/Echo-2-by-Roy-Gadsden.jpg
3282
1732
Sophie Tatton
https://www.reaseheath.ac.uk/wp-content/uploads/2019/09/reaseheath-logo-web-header-1.png
Sophie Tatton
2016-07-14 16:45:45
2016-10-25 09:49:23
Horse behaviourist Richard Maxwell gives insight into training