RHES help monitor two of Britain's rarest herps
Every year as part of RHES aims, the group went back to Talacre North Wales to assist the Field Studies Centre and their team with the monitoring of Britain's rarest herps.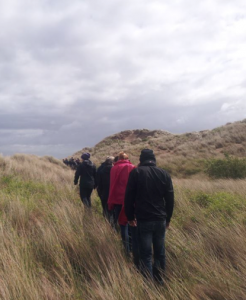 RHES spent a late evening with the team surveying the Natterjack Toad Epidalea calamita on a successful reintroduction site. RHES members surveyed this species on the same site the previous year and collated data for the field studies centre on the sex, weight and size of the animals. This year they identified sex ratio, breeding pools and spawn strings. Due to the number of members that attended we were able to cover a large area of the sight. Kim and her team shared knowledge on species natural history and conservation action points and the group hope to be invited back next year to continue the surveying.
The same week RHES spent the Saturday on a neighbouring site with experts, receiving training to monitor Sand Lizard Lacerta agilis populations. The sand dune habitats and the secretive nature of the lizards meant the group had to tread quietly and have a keen eye. The experts explained the most successful way to look for the sand lizards. These skills will help the group as their herpetology careers develops.
RHES would like to say a huge thank you to Kim, Sarah, Mick, Josh and Mandy for leading them with their expertise. Also to Lisa for driving them.
https://www.reaseheath.ac.uk/wp-content/uploads/2014/08/RHES-rarest-herps.png
473
868
Liz Green
https://www.reaseheath.ac.uk/wp-content/uploads/2019/09/reaseheath-logo-web-header-1.png
Liz Green
2014-08-26 15:20:58
2014-08-26 15:20:59
RHES help monitor two of Britain's rarest herps