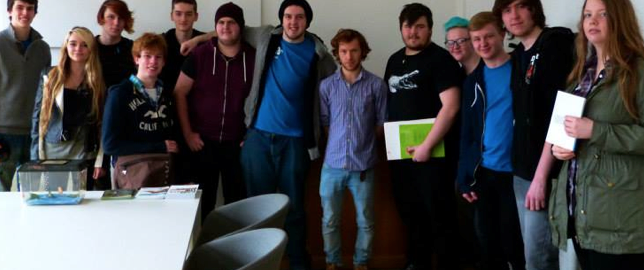 RHES visit and receive a talk on Manchester Museum's Live Vivarium
On the 17th February, the Reaseheath Herpetological and Entomological Society (RHES) travelled down to Manchester for a talk and live amphibian display by Adam Bland, the Assistant to Head Curator of Herpetology at Manchester Museum.
Upon arriving at the museum we were invited into the conference room by Adam where the talk would take place. RHES and Adam discussed at length the conservation work done within the museum as well as abroad, with members asking a barrage of questions throughout the event hoping to further their knowledge of international conservation and amphibians.
Throughout the talk Adam displayed a remarkable knowledge of tree frogs in particular a subfamily of tree frogs known as Phyllomedusinae, more commonly known as leaf and monkey frogs. There are roughly 45 species within the subfamily Phyllomedusinae, the large majority of which are endangered or threatened due to disease, habitat loss and climate change.
All the frogs Adam displayed during his talk were from this subfamily and included well known species such as the Red-Eyed Tree Frog (Agalychnis callidryas) and Monkey Wax Tree Frog (Phyllomedusa sauvagii) as well as more obscure species such as the Lemur Leaf Frog (Agalychnis lemur), Splendid Leaf Frog (Cruziohyla calcarifer) and the Tiger-Legged Monkey Frog (Phyllomedusa tomopterna) all of which were beautiful and full of character.
After the talk Adam lead us to the Live Vivarium itself, here Adam showed us the other species housed here including a multitude of other frogs, several species of reptiles and a variety of butterfly species. Adam also answered some more of our questions and gave members some advice on getting a foothold in the animal industry before ending the tour.
I'd like to thank all the members who attended and hope you all had a great time, as well as a huge thanks to Andrew, Adam and Manchester Museum for being such great hosts and taking the time to meet with us, Lauren for helping me organise the event and James, Dan and Annabella for photography.
https://www.reaseheath.ac.uk/wp-content/uploads/2014/02/RHES-Manchester-Museums-live-vivarium.png
318
644
Liz Green
https://www.reaseheath.ac.uk/wp-content/uploads/2019/09/reaseheath-logo-web-header-1.png
Liz Green
2014-02-21 13:38:41
2019-09-30 18:18:48
RHES visit and receive a talk on Manchester Museum's Live Vivarium