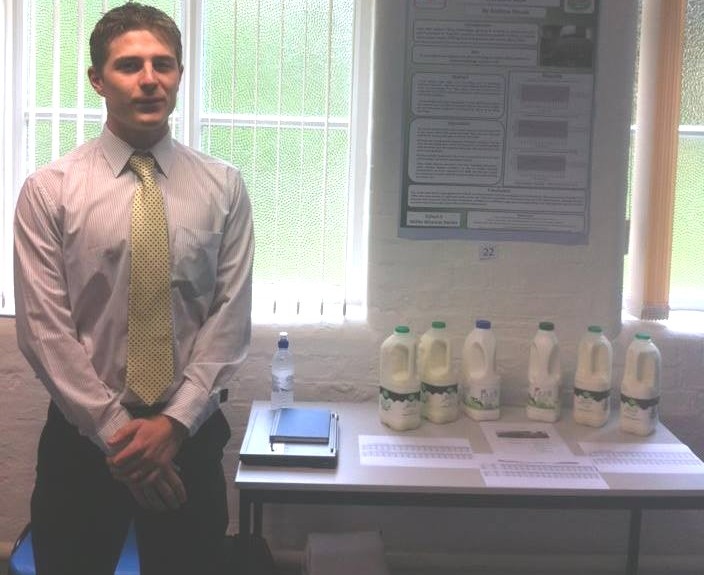 Dairy technology alumnus Andrew Moule took time out of his busy schedule as Production Manager for Muller Wiseman Dairies (Droitwich) to answer a few questions about his time at Reaseheath College and offers a little insight into his career related successes.
What led you to study at Reaseheath?
I left school at 16 and took a part time job while I looked for full time work. My Dad who was working at Wiseman's as a Driver told me about vacancies in the logistics chill loading vehicles. I was successful in getting the job and worked for 4 ½ years in the logistics chill doing various roles before in Oct 2010 I applied for Project Eden.
Coupled with the companies positive attitude and support towards the course I was able to gain experience in most areas of the production side of the business, develop my skills, knowledge and connections.
What attracted you to your current job role?
I have been working at Muller Wiseman Dairies for nearly eight years and had experience in nearly all areas of the  company's production & logistics departments, so to manage the key production area of the business seems to be the most logical step to boost my experience, knowledge and provide me the key ingredients to step forward and progress within the business.
What does your typical day involve?
There are four roles which I undertake as Production Manager, these are Early Shift Duty Manager / Back Shift Duty Manager / Early Support Manager or Days. As duty manager, I would oversee the sites milk process & production which is 5 milk pasteurisers, 3 cream pasteurisers, six standard milk filling lines, two ESL (extended shelf life) milk filling lines & 3 cream fillers. As support, I would assist the Duty Manager on the early shift & on days I would concentrate on my department (Polybottle Filling) and address staffing issues for my 49 staff who report to me, health & safety & quality issues, performance improvements & general admin.
What gives you the most job satisfaction?
I would say, knowing that because of mine & my teams hard work everyone can have & their enjoy their milk every day with their tea, coffee & cereal.
Can you tell us a little more about your environment in terms of work-life balance…?
Due to the nature of the business the shifts range from (4:30am to 2:30pm) or (2:30pm to finish) (Monday – Saturday) if I am duty manager on early or back shift. If I'm working days it's Monday – Friday 7am – 4pm.
My Girlfriend works away in the week so most weekends I spend with her. This means working the shifts in the week isn't an issue for me.
What advice would you give to someone thinking of following your path?
Gaining experience in a production environment would be a key benefit to anyone looking to go into production management. Working or applying to a company which offers work based learning schemes such as Project Eden is a very good way to gain academic skills as well as practical "hands-on" experience which is what I believe employers look for.
Salaries are negotiated on experience and length of service and can vary quite a lot, gaining a broad range of skills will endeavour to stand you in best stead for a prosperous career in the dairy industry. With the range of opportunities across the industry ever expanding, I'd say dairy is a very secure & fulfilling career, exciting prospects particularly for new graduates!
https://www.reaseheath.ac.uk/wp-content/uploads/2014/02/Andrew-Moule-Graduate-QandA.jpeg
745
704
Sophie Tatton
https://www.reaseheath.ac.uk/wp-content/uploads/2019/09/reaseheath-logo-web-header-1.png
Sophie Tatton
2014-02-18 09:42:26
2014-12-08 14:15:56
Careers in focus: Andrew Moule, FdSc Dairy Technology (Eden), 2013