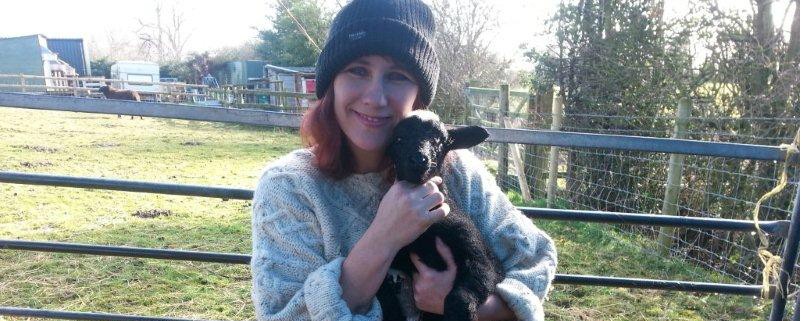 Wise shepherd achieves her farming dream
Agriculture graduate Caroline Jellicoe took the plunge and moved to Cumbria to manage her own own sheep farm having completed her degree at Reaseheath.
Caroline was inspired back to education after visiting the Nantwich campus with her children during lambing season back in 2010.
Coming from a background in zoo keeping, Caroline has worked with a range of exotic animals in her career so far, but was keen to expand her knowledge of the farming industry.
Caroline prepared for her degree by completing an Access to Higher Education Diploma at Reaseheath, where she found her passion for sheep farming.
During the second year of her degree, Caroline bought an acre of land along with six zwartbles shearling pedigree sheep and a ram called Mr Gibbs. The 27th February 2014 saw the ewes give birth to Caroline's first flock of lambs.
She commented, "It was a long road to get to the of point of having my own flock of sheep – but it was all worth it.
"I'm incredibly grateful for the support of the Farm Manager Mark Yearsley and other staff, along with the opportunity to gain experience working on the College farm during my time at Reaseheath. This all helped me on my way to achieve my dream of owning my own sheep flock."
On looking to the future Caroline said, "I am always looking for more land. I only wanted a few sheep at first, but since I visited a friend's farm in Yorkshire and falling in love with it, I decided I would dream BIG – I am aiming for 1,000 sheep now. In one year I have gone from no sheep to 40 and I intend to grow and grow."
With her experience working with exotic animals, Caroline is also the proud owner of an eagle owl, barn owl, tortoise, bearded dragons and goats. As a diversification programme to her flock business, she has set up a new enterprise 'The Three Wise Shepherds', a programme of  educational talks with her variety of animals. She has also begun to take the animals to children's parties for petting along with 'meet and greet' experiences for children and adults of all ages.
Caroline has graduated from Reaseheath in 2014 with a Distinction in her Foundation Degree and celebrated her success along with fellow classmates at our graduation ceremony at St Mary's Church in Nantwich. In December 2014 Caroline moved to a fell farm in Cumbria, where she now manages 200 herdwick ewes plus her own zwartbles flock.
If you would like to find out more about Caroline and her growing business 'The Three Wise Shepherds', follow her twitter handle @sheepstudent.  
https://www.reaseheath.ac.uk/wp-content/uploads/2014/11/Caroline-Jellicoe-with-Bo-Peep-first-ever-lamb-in-my-new-flock-27th-Feb-2014-crop.jpg
343
801
Sophie Tatton
https://www.reaseheath.ac.uk/wp-content/uploads/2019/09/reaseheath-logo-web-header-1.png
Sophie Tatton
2014-11-05 15:51:50
2016-03-15 15:03:09
Wise shepherd achieves her farming dream