Are you thinking about which college course would be right for you? If you love flowers, nature and being creative, floristry could be your perfect choice! To help you with your decision, we interviewed current Level 3 Floristry student Daisy who explains more about the course.
Daisy Annandale
Why did you want to study Floristry?
When I was deciding on which college course I wanted to study, I was torn between two options but I chose floristry as I have always loved nature, and I don't regret it at all! I love that it allows me to be creative and it is an absolute honour to create designs for important events such as weddings and funerals.
What is your favourite thing about the course?
I enjoy the variety of topics we cover in our floristry sessions; I particularly enjoy studying trends in the floristry industry. It is fascinating how perceptions and preferences can be influenced by magazines and TV shows and how trends change. I also really like that the teachers are so supportive and they are always on hand to help you with anything you need.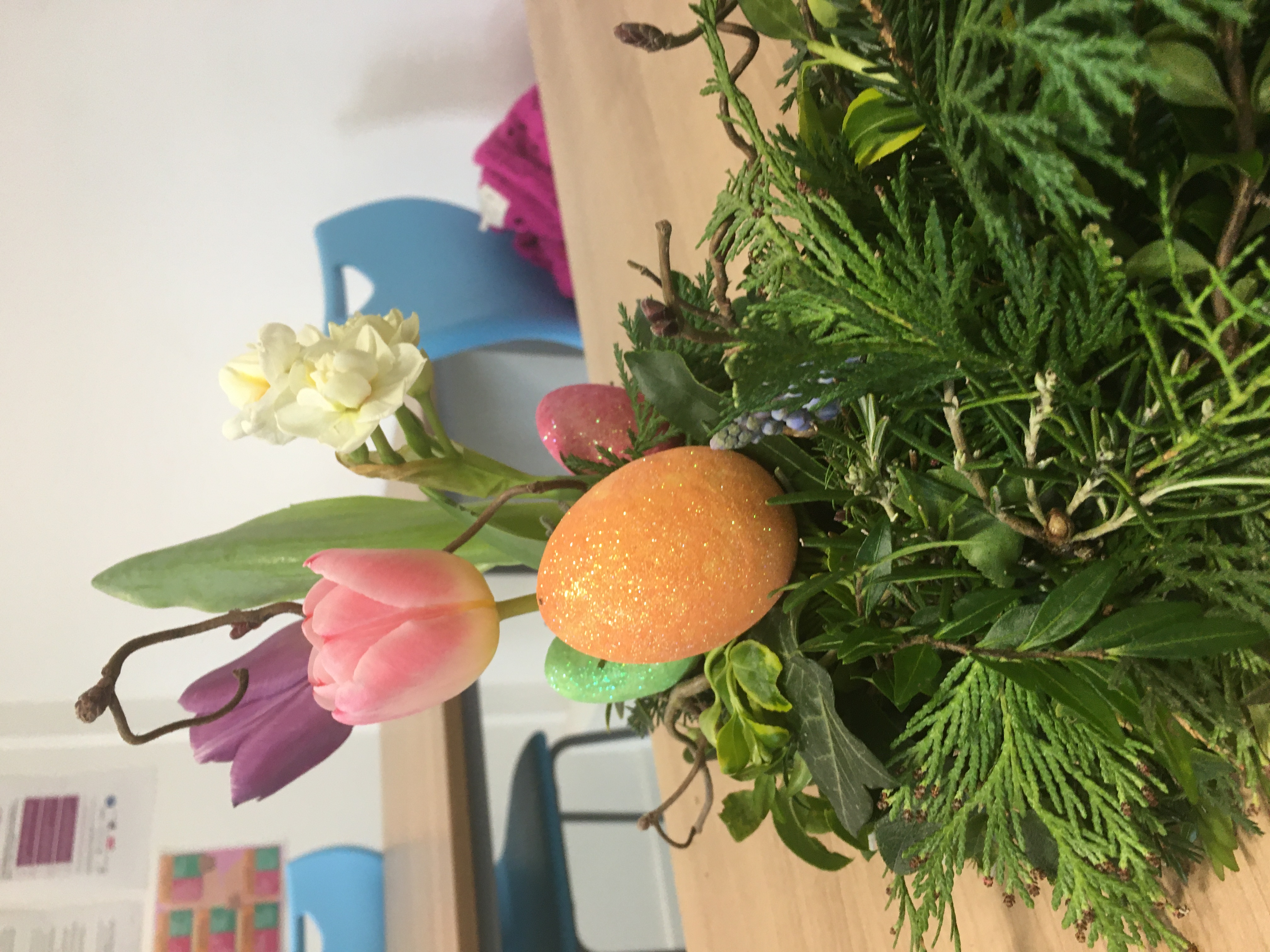 Is there a piece of work you have created which you feel most proud of?
We create a lot of designs in our practical sessions so it is difficult to choose, however I was particularly proud of my Easter table decoration I made this year (pictured) which included colourful Easter eggs, irises and tulips with a woodland theme. I am also really proud to have gotten through to the finals of the 30 under 30 Good Florist Guide Competition, which celebrates young people in the floristry industry!
What would you like to do after you complete your course?
Once I have completed my Level 3 Diploma, I would like to move onto the Level 4 Floristry Diploma at University Centre Reaseheath to learn how to make bigger and bolder designs. While studying, I will also be continuing to work at Flores Diem, a floristry shop in Shropshire, which I really enjoy.
What is a typical day like for you as a Floristry student?
There is a lot of variety in the course but a typical day usually starts with theory sessions, such as health and safety or learning how to manage or own a business. We then usually complete practical work in the afternoon, which is a great way to perfect our design skills and put what we've learnt into practice.
What are the floristry facilities and teaching staff like at Reaseheath College?
I am really impressed with the floristry facilities at Reaseheath College. The workshops are really modern and have all of the tools and accessories we need to make our designs. It is also great to be studying on such a lovely rural campus with such a wide foliage variety which we can study and sometimes use in our designs.
Would you recommend this course to others and why?
I would highly recommend studying floristry at Reaseheath. The course has really improved my confidence and I've been really well supported to constantly improve my floristry skills too. All the staff at Reaseheath, both in the floristry department and right across the college, are lovely and are all willing to help you whenever you need it. If you love flowers and nature and you're looking for a rewarding, creative course, floristry could be the perfect choice for you!