Five Reaseheath graduates were singled out for special recognition at our recent Graduation Ceremony. Here's a short overview of their research projects.
 Dean's Award for Outstanding Achievement in Undergraduate Research
Hannah Morrow (BSc (Hons) Applied Plant Science and Production Technology) First class
Hannah completed unique and in-depth research for her final dissertation which looked at the difficulties of crossing cultivars within the rose growing industry.
She took an intuitive leap and came up with a simple treatment that she theorised would increase pollination, hip set and seed germination. She then proved through practical experiments over one year that her treatment did increase the chance of successful rose breeding.
The result has been a ground-breaking new treatment for roses that she is looking to develop in partnership with a major horticultural producer.
Dean's Award for Outstanding Achievement and Personal Progression
Lilly Harris (BSc (Hons) Equine Science) First class
Despite suffering a serious spinal fracture which resulted in hospitalisation and a significant period of absence, Lilly completed her final year thesis on equestrian motivational sports psychology to first class standard.
Setting out to identify behaviours which led to a successful relationship between coach and rider – an area which has received little attention in equestrian scientific literature – Lilly recruited 340 participants for data collection. Her in-depth research revealed that both sides viewed behaviours such as verbal praise and body language were most effective.
Lilly has progressed onto an MSc in Equine Behaviour, Performance and Training at another institution and plans to expand her undergraduate research further.
Meredydd David Award for Academic and Technical Excellence
Connor Smith (BSc (Hons) Agricultural Business Management) First class
Passionate about dairy cows and their welfare, Connor has worked on a dairy farm alongside his Foundation and Bachelor Science degrees to gain further knowledge, resulting in his promotion to herd manager.
He chose antibiotic resistance to mastitis as the subject for his final dissertation project in the hopes that he could discover knowledge which would be useful and accessible to farmers.
He presented his findings at the British Undergraduate Research Conference showcasing how valuable land-based research can be. His ability to present information to a wide range of audiences, including those who are unfamiliar with the subject, was obvious. Hoping to eventually publish his research, Connor is now studying for a Master's degree in ruminant nutrition.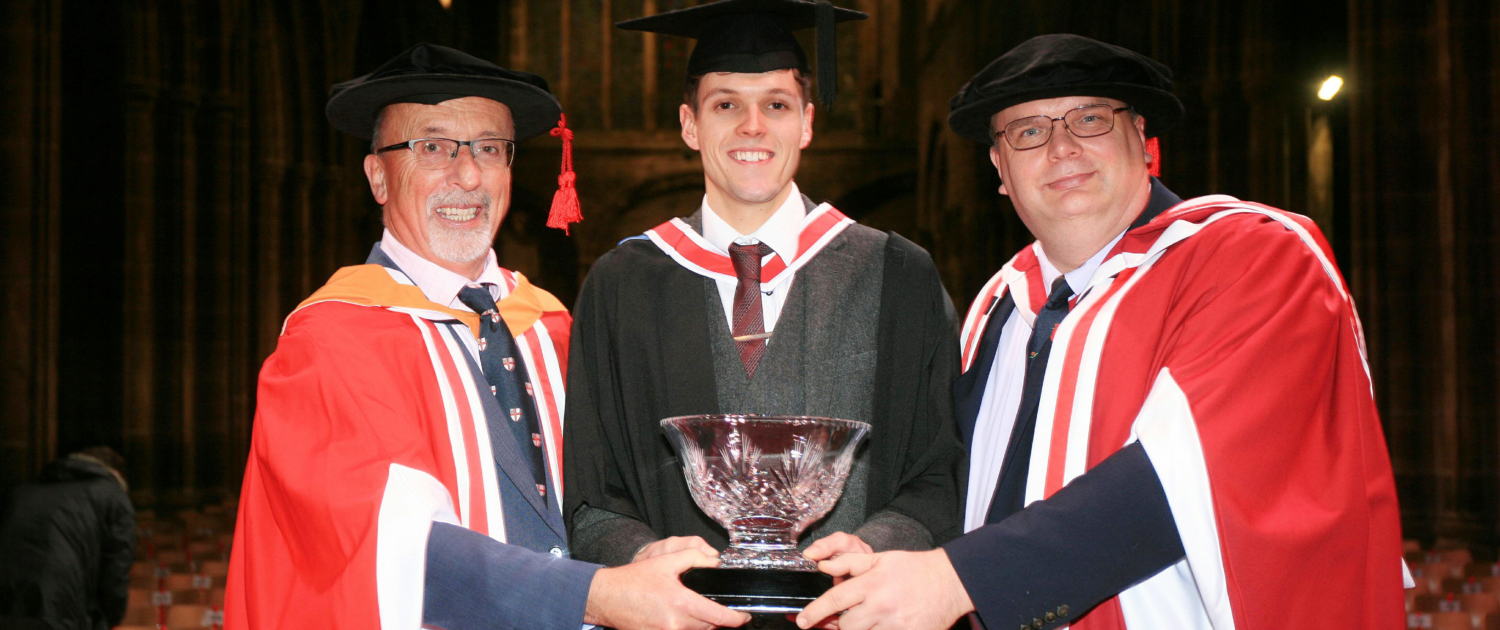 The Dairy Industry Student Award (sponsored by The Society of Dairy Technology)
Katie Hookway (Foundation Degree in Dairy Technology) Eden programme
This award recognises the efforts of new entrants to the Dairy Industry and in particular looks at scientific research which could have a potential impact on the dairy industry, particularly a return on investment.
A former dairy technologist with Arla Foods Taw Valley Creamery, Devon, Katie took the award for her project on milk protein and its potential to increase cheese yield. Keen on studying genetics and nutrition, Katie chose to research literature on cattle genotypes which give milk with a high casein level, leading to increased cheese yield. She then suggested a revised payment structure for UK producers which would reward them for creating a more profitable product.
Katie is now working as a dairy specialist, helping local farmers with herd health, yield, genetics and nutrition, accreditation and compliance.
The Dairy Industry Student Best Final Year Project Award (sponsored by The Society of Dairy Technology)
Ben Morris (Foundation Degree in Dairy Technology) Eden programme
Ben is a team leader in the whey department at Glanbia Llangefni Creamery, Anglesey, a large Mozzarella manufacturing site that produces large volumes of whey.  Before going for further processing the whey needs to be at a temperature of less than 8C and this was not being achieved consistently.
Ben's research revealed that the evaporator had been modified and incorporated a design fault with two centrifugal pumps sharing the same pipe work and at different flow rates. Gas bubbles caused damage which reduced efficiency and raised the potential of introducing foreign matter.
The problem was fixed by introducing a balance tank with level transmitter controlling a variable speed drive. Improved performance of the cooler has brought all products leaving the creamery to within temperature specification, with potential savings of £490,000.