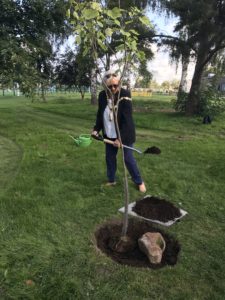 Every year, Reaseheath welcomes French exchange students from Mâcon College in Southern Burgundy as part of our long-standing relationship with this land-based college.
A group of 20 students visited our agriculture and agricultural engineering departments this summer to share best practice along with taking a tour of Reaseheath's zoo and our National Centre for Horticulture, the Environment and Sustainable Technology.
Reaseheath's links with Mâcon College contribute to a wider initiative led by the Crewe and Nantwich Twinning Association (CANTA) which aims to promote friendship and understanding between local residents and those of other nations.
Since 1957, Crewe has been twinned with Mâcon and residents of both towns can benefit from a range of activities and visits. To recognise 60-years of this successful partnership, Reaseheath's horticulture department presented the students from Mâcon College with a Tulip Tree (Liriodendron tulipifera) to celebrate our continuing association.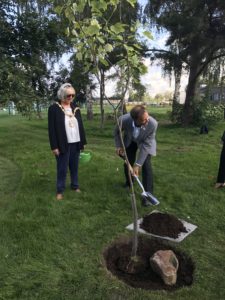 An official tree planting ceremony was organised in our grounds by HE Course Manager Craig Bailey during a recent visit from Gino Ceddia, the Vice-President of the Mâcon Twinning Association, and 10 French families who had applied to be part of the town twinning initiative.
Craig led the group on a tour of Reaseheath Hall and campus before the tree was planted by Gino Ceddia and The Mayor of Crewe, Councillor Diane Yates on behalf of the residents of the two towns.
Cllr Diane Yates commented: "It was a pleasure to join our friends from Macon to plant the tree to mark the 60th anniversary of our friendship.  It will be fantastic to watch the tree grow as our friendship continues to grow with all our twin towns."