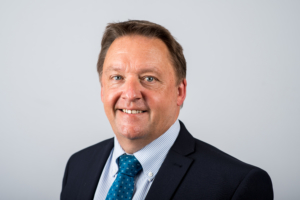 One of Reaseheath College's longest serving staff members, Vice Principal Dave Kynaston, has retired after 36 years of unbroken service with the Nantwich college.
Dave was a student at the then Cheshire College of Agriculture in 1977 and returned in 1983 to become a lecturer in farm building construction, estate maintenance, mechanisation and engineering. Since then he has climbed the promotion ladder and seen Reaseheath grow into one of the UK's leading land-based and technical colleges with a university centre, 15 individual departments and a total of 4,600 students, undergraduates and apprentices.
His progression took him from Course Manager in the Engineering Department to Sector Manager of Engineering and Construction, which he achieved in 1995.
In 2001 after 18 years of service, seven of which he was also a staff governor, Dave was appointed to Vice Principal and continued in that position for a further 18 years. He served under three principals Vic Croxson, Meredydd David and current Principal and CEO Marcus Clinton.
While at the helm of Reaseheath Engineering Dave was central to forging a partnership between the department and machinery giant JCB and has continued to support links with other leading companies. He also played a leading role in establishing Reaseheath as one of the UK's leading training providers for the construction industry, launched the college's thriving Foundation and Entry Level Department and was key in the recruitment of Irish students.
Other career highlights included the launch of the John Platt Travel Scholarship, a bursary offered in partnership with the Cheshire Agricultural Society.
A dairy farmer's son, Dave is a former pupil of Sir John Talbot's Grammar School and lives in Whitchurch. He is married to Jenny, has two daughters, Sarah and Claire, and two grandchildren.
He said: "I feel privileged to have been part of Reaseheath College for so many years in a place and position to make a difference. The outstanding memories for me have been working with so many excellent staff members, boards of governors and principals and the amazing camaraderie and team spirit which exists throughout the Reaseheath family.
Paying tribute to his colleague, Marcus Clinton said: "There are very few examples of anyone who has spent such a long and loyal time serving the sector. Dave is well known throughout the land based sector and has been instrumental in forging many pioneering industry partnerships.
"He has been hugely loyal and has worked tirelessly for what is best for the college and our students. As Reaseheath approaches its 100 year anniversary it cannot be underestimated what role he has played behind every development at college."
Reaseheath Assistant Principal Matt Gower has been promoted to Vice-Principal.