Runner Up Best stand (Professional Class)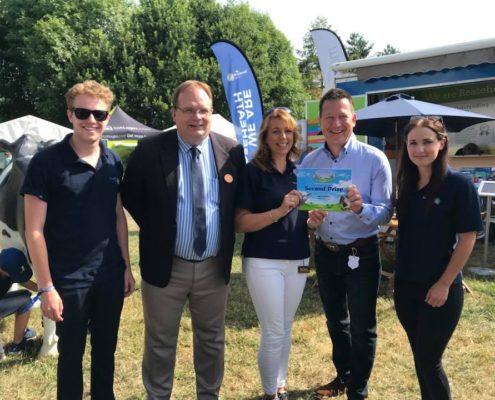 Our college stand took the Runner Up award in the professional trade stand category, thanks to our diverse 'hands on' activities, friendly staff and efforts to engage with and educate the public.
Cheeses produced by Level 5 apprentice dairy technologists on our Eden programme and by Level 3 Diploma Food Technology students took three silver and three bronze awards in the International Cheese and Dairy Show, proving they can hold their own against world class professionals.
We entered a total of ten cheeses, all made in our industry standard food processing halls. Our awards included:
Silver  Speciality Cheesemaker Class (made by Eden apprentices Fern Lawton Barlow, Ethan West, Oliver Hodgson)
Silver Creamery block cheese territorials (made by Eden apprentices Leigh Vinnel, Katherine Gore, Emma Hussellbee)
Bronze Student cheesemaker (made by Eden apprentices Fern Lawton Barlow, Ethan West, Oliver Hodgson)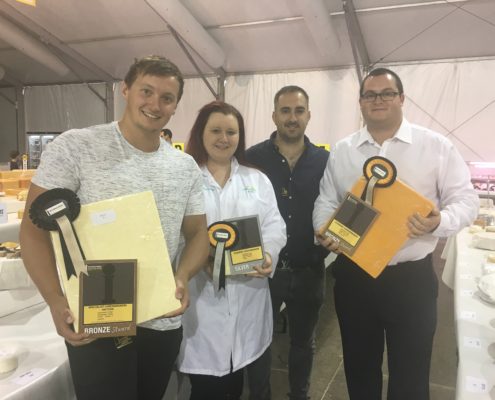 And there was more cause for celebration when Eden apprentice Leigh Vinnell was awarded Gold in the Best Student Cheesemaker category with a cheese produced by him for his employer Wykes Farm. Reaseheath sponsors this category.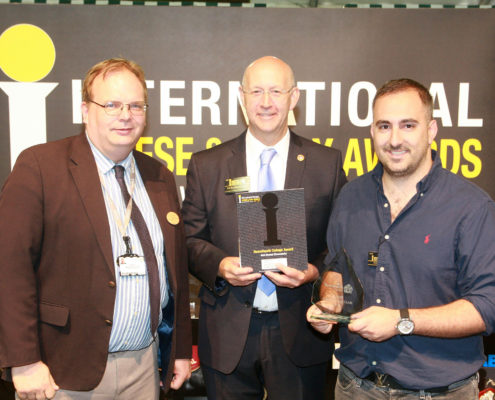 The Nantwich International Cheese Show is the world's largest cheese festival, attracting 5,500 entries this year and taking five hours of judging. All classes are highly competitive and winning entries must be outstanding in flavour, texture and taste.
Our Commercial Development Co-ordinator Julie Bent is a member of the organising committee for this show and has attended meetings throughout the year helping to ensure its success. She was instrumental in the popular celebrity chef demonstrations and in organising our stand within the cheese marquee, which informed the public about cheesemaking and sold Reaseheath butter and cheese. Many of our Food Centre team acted as stewards for the cheese show.
World class experience for Eden apprentices
The Eden programme is a unique, ground breaking, education initiative driven and supported by leading dairy companies including Arla, Muller and Dairy Crest which recognise the importance of investing in talented employees.
Level 5 (Foundation Degree) apprentice dairy technologists attend Reaseheath on a block release basis to study for an internationally recognised Foundation Degree in Dairy Technology. The programme, which is run by Reaseheath Training, includes practical sessions in our industry standard dairy processing halls and the chance to gain an overview of the global industry.
Over 10 of our Eden apprentices gained invaluable experience by volunteering to steward during judging day, which is dedicated to trade professionals and held the day before the Nantwich Show opens to the public. This gave them a superb opportunity to support and learn from top judges, network with senior industry professionals, gain an overview of global dairy manufacturing and to taste some of the best cheeses in the world!
Their duties included setting up the entries, putting out the awards, delivering the results to the show office and generally ensuring that the event ran smoothly. They were accompanied by assessor Jess Davies.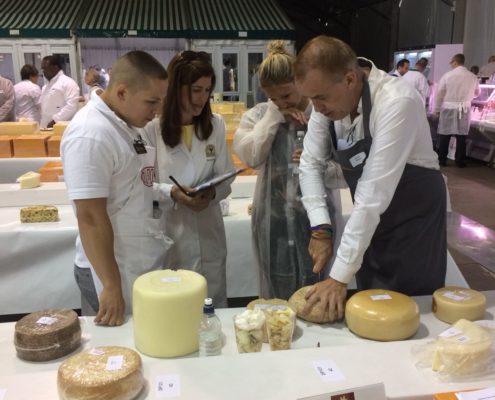 Chilling out with celebrity chefs
Megan Jones, a former Bakery and Patisserie and Public Services student, was also busy in the cheese awards as support to celebrity chefs James Martin, Will Holland and Sean Wilson
A beautiful handwritten cheese recipe book dating back to 1915 was a big hit with visitors after we put it on show on our stand in the International Cheese Show.
The marvellous insight into the life of remote rural communities was sent to us by former headmistress Patricia Kerridge, who rediscovered it during a home clear out. Patricia used to live in the New Forest and she and her daughters learned to handmilk their neighbour's four Guernsey cows, who provided villagers with milk bottled on the farm. Patricia went on to try making cheese with the milk using the carefully recorded recipes from the book.
She has kindly sent us this precious momento to share with others.We have taken a copy for our library and are planning to donate the original to the Cheese Room in Nantwich Museum.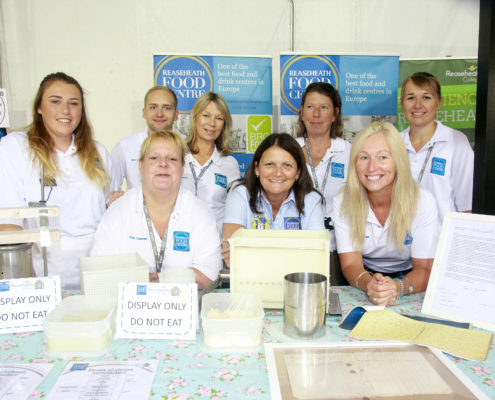 A Jacob ram called Prince Philip and shown by Level 1 joinery student Tom Lewis took the Championship in the Native British Breeds in the sheep section. Tom won a fistful of prizes including four firsts, one third and one fifth with sheep from his Salopearl flock, based in Whitchurch.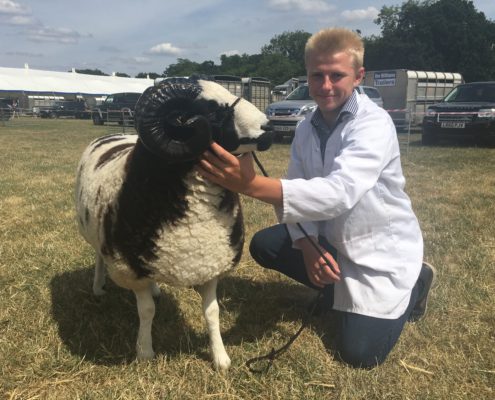 Cattle from the Sandbach Charolais herd and shown by agriculture lecturer Sally Beresford and her partner took two championships, three firsts and two seconds in the highly competitive and well supported interbreed and continental breed classes.
Our agriculture students had the privilege of showing these cattle at the Cheshire Show.