Visit to Llandyrnog Creamery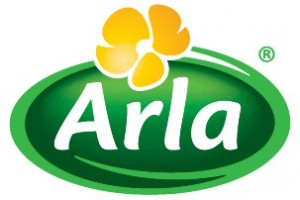 On the 9th January 2014, Toni-Anne Harrison, Penny Masters, Debbie Heritage-Brill and myself, visited Llandyrnog Creamery. It was a great day and proved to be very informative.
Llandyrnog originates back to 1921, where only milk and butter were produced onsite. Whereas cheese was made at the local farm, which was only 500 yards away. The site was originally owned by a private farmer cooperative. After major upgrades in 1974 and 1989 the site was acquired by Milk Link in 2009. This eventually led to a merge with Arla in 2012.
The creamery at Llandyrnog operates 7 days a week, 24 hours a day. The pasteurisation flow rate is 47,000 litres per hour which produces 5 tonnes of cheese. The site holds up to 12,000 tonnes of cheese which all are at different stages of maturation. The site is able to store up to 1.4 million litres of milk at any one time. Llandyrnog primarily makes cheddar cheese including Anchor and Cathedral City and has won many national and international awards for their cheeses.
The systems that are in place and the machinery used, ensures the Llandyrnog Creamery has minimal wastage.
From the visit, we increased our knowledge on cheddar cheese making, how this is produced on an industrial scale and through automated processes. This is very different to how cheese is made at Reaseheath College.
We would like to thank Eden Trainee Dairy Technologist Sue Twist for hosting us.
Laura Broome
Food Technologist
https://www.reaseheath.ac.uk/wp-content/uploads/2014/03/237540_8001.jpg
1094
1102
Sophie Tatton
https://www.reaseheath.ac.uk/wp-content/uploads/2019/09/reaseheath-logo-web-header-1.png
Sophie Tatton
2014-03-01 14:51:44
2014-10-31 09:10:09
Visit to Llandyrnog Creamery