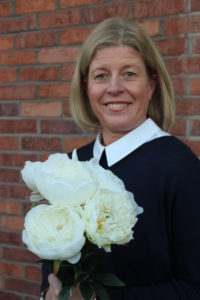 A former Reaseheath floristry student is to take up an exciting challenge in the Bahamas.
Dominique McManus is to launch a new in-house floristry department for Nassau based Cacique International, a leading destination management company specialising in tailormade events. As Design Team Lead (floristry) she will be responsible for managing and growing the department, which provides floral designs for business conferences, weddings and major public and private events.
As well as providing the final touches of luxury to the company's own events, the department will be offering floristry services to the island's busy tourist hotels and client cruise ships.
Dominique, from Nantwich, was offered the life changing opportunity after networking with professionals within her industry. Since gaining her Level 3 Diploma in Floristry at Reaseheath eight years ago, she has gone on to complete her Level 4 Higher Diploma in Floristry and has enjoyed a successful career as a freelance.
A former management recruitment consultant, Dominique has a degree in hotel management and has previously worked in operations management and event planning and management.  She decided to change her career so she could follow her lifelong passion for floristry.
Inspired by the design skills she learned at our leisure evening classes, she progressed onto our one day a week NOCN Foundation, Intermediate and Advanced Awards in Creative Skills Development and then onto our full time Level 3 Diploma in Floristry. She completed her Level 4 Higher Diploma, one of the highest qualifications possible, with the Academy of Floral Art in Exeter.
Dominique, who has just returned from meeting her new team, said: "I wanted to be a florist when I was young but decided to follow another career path. Reaseheath's courses reawakened that passion and my lecturers encouraged me to aim for the top.  Now I have a really exciting job and I couldn't be more delighted. This is an amazing opportunity to experience a new lifestyle and culture."
Reaseheath Head of Floristry Sue Poole said: "Dom was an outstanding student who made the best possible use of her time at college and during her work experience. We always knew she would do amazing things and we wish her well in her new venture."
Dominique is not the first Reaseheath florist to gain a dream job in year-round sunshine. Former technician Sarah Parker is enjoying a successful career as a wedding and event planner on the Caribbean island of Grand Cayman.
Former students Emma Ollier and Jen Latham also went on to work as floral designers in Bermuda. They were offered jobs there by another Reaseheath florist, Lisa Holroyd, who has a flourishing business on the island operating three floristry shops.