Level 3 Diplomas in
Horticulture
Leading to an Extended Diploma, Diploma or Subsidiary Diploma
If you're interested in broadening your knowledge of garden design and landscaping or in the business of growing ornamental plants, fruits or vegetables, this course is the right one for you.
Specialist staff will help you gain a broad spectrum of practical horticultural techniques and skills. Following this course you'll be well placed for a career in the industry or for progression into higher and degree level study.
Extended Diploma
What will I study?

Plant and soil science
Business management
Machinery operations
Horticultural production
Decorative landscape features
Interior planting
Turf in parks and gardens
Plant identification
Functional Skills or GCSE in English and Maths depending on previous qualifications
How long will it take?
What qualifications do I need to start?
At least 4 GCSEs at grade 4/C, or
Career changers welcome
What qualifications will I gain?
Course options after this programme
Career options
Green keeper or groundsperson
Landscape business
National Trust / private garden
Retail manager / supervisor
Sales and marketing
Soil analyst
Agronomist
Your Reaseheath Experience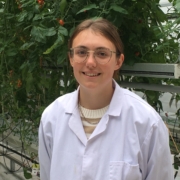 Job title: Assistant grower at plant nursery
"I was going to study for a degree but decided the university route wasn't for me. I found my niche while working in a plant nursery and felt a horticultural qualification would help me progress. Reaseheath was very accommodating and I completed my course in one year.
"I got my job offer through my work placement and my lecturers helped me gain my spraying and forklift licences. I'm helping to raise plants to sell on to garden centres. It's an opportunity to learn from an experienced grower and a very good starting point.
"The horticultural industry is very exciting, with many opportunities across the sector. My course prepared me well because it offered both practical and academic sessions, from advanced technology in the glasshouses to turfing, block work and building design."