Level 3 Diplomas in
Public Services
Leading to an Extended Diploma or Diploma 
If you're keen to start your career in the uniformed public services, this course will help you prepare.
Through theory based and real-world teaching approaches you'll explore interesting topics such as leadership, citizenship and teamwork alongside adventurous activities, such as rock climbing and water sports.
There'll also be a chance to participate in a 'look at life' army course and work with Cheshire Police and Fire Service during their training activities.
Extended Diploma
What will I study?

Government, policies and public services
Leadership and teamwork in the public services
Citizenship, diversity and the public services
Fitness testing and training for uniformed public services
Skills for water based outdoor and adventurous activities
Skills for land based outdoor and adventurous activities
Outdoor and adventurous expeditions
Police powers in the public services
Responding to emergency service incidents
Crime and its effect on society
Behaviour in public services
International institutions and human rights
Command and control in the public services
Custodial care services
Instructing physical activity
Understanding the impact of war, conflict and terrorism on public services
Understanding discipline in the uniformed public services
Communication and technology in the public services
Current and media affairs in public services
Functional Skills or GCSE in English and Maths depending on previous qualifications
How long will it take?
What qualifications do I need to start?
What qualifications will I gain?
Course options after this programme
Related degree specific to the public services, or
Seek employment in the public services or security industry
Career options
Armed services
UK Border Force
Police
Fire and rescue
Ambulance service
Additional qualifications
Your Reaseheath experience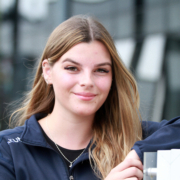 Next step: Police constable apprenticeship (degree level) 
Ambition: Complete probation, then specialise  
"I'm keen to join the police force because I want to make community life safer.  Applying for a police constable apprenticeship isn't the traditional route to a degree, but it's a great way to gain both a qualification and experience.  
"I'm confident that my college course will support my application. Most of my lecturers have worked in the services and are keen to support and guide. They understand the requirements of service careers and this makes learning from them more engaging. 
"I chose to study at Reaseheath because the course has a hands-on approach which is good for your CV. We've taken part in riot control with specialised police units and joined ambulance and fire teams, and also completed team building activities with the adventure sports department."