Reaseheath Vehicle Technology reaches into the future
Reaseheath College at the Forefront of Hybrid Technology
Our Motor Vehicle Technology team have taken steps into the future of motor vehicle training with the purchase of a Toyota Prius Hybrid. The car has come from Toyota RRG Stockport and will support our learning programme for level 2 and 3 Vehicle Technology students.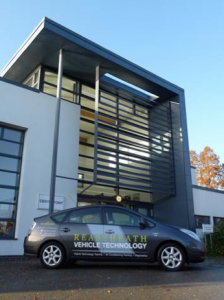 The purchase of such an advanced car gives us an exciting opportunity to take forward out vision – to provide vehicle technology training of the highest technical level in Cheshire and North West of England and to become a centre of excellence in the region and the centre of choice for current and prospective motor vehicle students.
We will become the only FE College in the area able to offer students a combination of Hybrid Vehicle, Oscilloscope training, electronic fault diagnosis, digital 4 wheel alignment and F-Gas (Air Conditioning) certification that will support their main programme of learning and Functional Skills. Our learners will gain more from training here at Reaseheath than the local competitors. Together with our brand new practical workshops, links with motorsport, and action packed study trips to science and industry venues and motorsport events, we offer a programme of learning that is very attractive to learners.
Future course development work will include delivering training to mature learners at Level 4 (Master Technician). We're also hoping to increase our income generation by providing training in F Gas Certification, Advanced Diagnostics and Hybrid technology to local and national repair establishments.
Sales of Hybrid and Electric Vehicles have increased significantly over the past three years. The purchase rate of these vehicles continues to gather pace year on year. Renault, Nissan and BMW have entered the full electric vehicle market with vehicles capable of more than 100 miles driving range on one charge at the cost of approximately £1. Tesla offers a vehicle that can drive from London to Paris and back again on one charge. Charging times for these vehicles have dramatically reduced as charging technology improves. The role out of the national recharging network continues to spread north offering the opportunity to charge your vehicle away from home.  Because of this Reaseheath College must keep pace with industry and purchasing the Hybrid Vehicle has helped us towards meeting our future objectives.
Students gaining experience of this high level technology will be increasingly more employable over those trained by our competitors.
Expect this new vehicle and the new technology and equipment to be making a presence at many of the shows and events that the marketing team attends.  The vehicle will also act as a marketing tool in its own right, as it will be used to replace hire vehicles for assessor and lecturer visits by the Engineering team to industry.
The future is bright and full of technology. Would you want your training from anyone else?
https://www.reaseheath.ac.uk/wp-content/uploads/2013/12/Motor-Vehicle-at-Reaseheath.png
610
917
Liz Green
https://www.reaseheath.ac.uk/wp-content/uploads/2019/09/reaseheath-logo-web-header-1.png
Liz Green
2013-12-20 10:39:36
2014-10-31 09:10:32
Reaseheath Vehicle Technology reaches into the future