The Student Association, societies and jobs on campus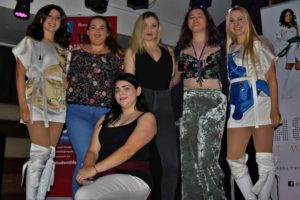 Hello! My name is Lisa Trodden and I am an FdSc Zoo Management student. The Student Association (SA) works alongside Student Services to organise a range of exciting events and is run completely by a group of  student volunteers. The SA is made up of current HE and FE students from different courses. There are a number of roles within the SA including President, RAG Vice President, College and Academic Board Reps, Campaigns Officer (the role that I have undertaken this year), EDI (Equality, Diversity and Inclusion) Officer, Communications Chair and more. The SA are there to represent all students across the college and act as the Learner Voice from both an academic and enrichment perspective. The SA listen to, and support, all students ensuring that they have a positive and enjoyable experience whilst at the college, whilst aiming to lead the development of all things student led at Reaseheath.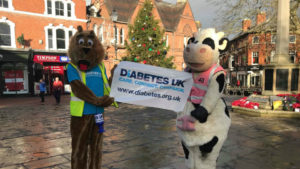 I am the Campaigns Officer which involves promoting and running the campaign stands that happen during lunches in the main restaurant. These include educating my fellow students on litter, anti-bullying, consent as well as drug and drink awareness. I also run the quiz nights on Monday nights in the R'club (the bar) in which we change the theme every week. Recent ones have included Disney and the 90's. I also do lots of extra bits including; running events, Nantwich community collections (see the picture to the right – yes I am dressed as a cow…), attending monthly meetings with the Principal and running Clubbacise (which is one of the clubs that there are on campus). As both a college and a university centre, Reaseheath offers many clubs that anyone can get involved with such as rugby, football, ju-jitsu and many more!
The SA is like a little Reaseheath family, which has been nothing but welcoming since I joined and has been great to be involved in. It allows us all to express ourselves to our full potential and it feels like I am part of something very special.
I have recently got a position as a Student Ambassador. Being a Student Ambassador means that I work most of the Course Open Events, FE Taster Days and HE Offer Holder Days. It's a wonderful thing to be a part of, as I get to share my experiences at Reaseheath, and try and help share how good the course is, how well I have settled in and how the course can open career pathways for you. It gives me a proud feeling, as I am helping others decide their future. Being an Ambassador is not voluntary (which is a perk!) and will look great on my CV as it shows a willingness to work and to spread a positive vibe.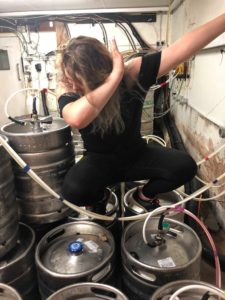 Along with being a Student Ambassador and a part of the SA, I have also got a job behind the student bar. Working behind the bar is so much fun! We have a good laugh, whist dancing to the music and serving our fellow students! Having a job on campus is very beneficial as it provides just enough pocket money to fund the luxuries and as it is on campus, it is easy to get to! All of the employers understand that we are students and the hours are flexible to suit. As you may imagine, having a job alongside my studies can be stressful at times, but the staff are very understanding and will provide us with any support they can.
Finally, there are many societies that you can join. These include the Photography Society and the Acapella Society, both of which, I am a part of. There are many other societies on the campus as well, such as RAG (Raising and giving) and a huge range of animal/conservation societies.
The Photography Society is a great way to bond with people whilst going on trips around the UK and at different events. For example, we recently had a trip to Blackpool Zoo where we took photos of the animals and the scenery. It was a great day out and I got some good snapshots! Check out my photos below! It is also a great opportunity for people who don't know how to use cameras to learn from other students who have the same interest.
The Acapella Society is a newer society, which was started and set up by an existing student, Jonny, who had the interest in Acapella and created the group called the Aca'rangers. I have recently been appointed in the Vice Chair position of the society which I am very proud of! It has seemed popular so far and the group sang at the Christmas Carol Service, which happens annually to aid our RAG efforts where all donations go towards Diabetes UK. Along with this, we are scheduled to help with other social events and to put on performances in RAG week, at society fairs and at Wellbeing events.
Thank you for reading! I hope this has given you a bit more of an insight into what it means to be a student at Reaseheath, and what is on offer for you to get involved in.
My name is Lisa. I am a 19-year-old from a place called Harpenden, Hertfordshire and I have chosen to study Zoo Management here at University Centre Reaseheath(despite being allergic to both dogs and cats!). here is always something to take part in such as bingo, dance classes, or even being hypnotised! The student association play a massive role in student life as they help provide the entertainment and sort out and run events for the students.