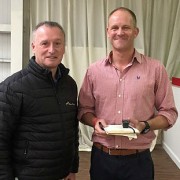 Jon Lowe BHSII
BA(Hons), MA
Jon Lowe is a freelance Equestrian Sports Journalist who offers marketing to businesses within the equine industry. He is also a module leader on our Equine Science and Sports Performance programme.
Jon, who is from Cheshire, first trained at the Wirral Riding Centre, where he was one of the youngest candidates at the time to be awarded the British Horse Society Intermediate Instructor's Certificate (BHSII).
In 2010, Jon took the decision to return to education as a mature student (and at the tender age of 38) and graduated with a First Class BA (Hons) degree and a Master's degree in English through the University of Liverpool.
Since graduating, Jon has specialised in writing for equestrian sport publications.
"I understand the demands placed on students and what a struggle it can be to balance all areas of life. I strongly believe in the long-term benefits of building industry links whilst you are studying. My role as a mentor is to facilitate the creation of these opportunities by networking with other industry experts," said Jon.
This year, our HE students have been invited to attend events such as BETA International, Badminton Horse Trials, Bolesworth CSI**** International Horse Show and The Somerford Park Premiere League.
Reaseheath College