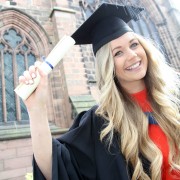 Hannah Dickson
Equine Faecal Analyst | Founder of 'Equine Erudition' | BSc (Hons) Equine Science
After graduating from Reaseheath, with her thesis being celebrated as an 'Outstanding Achievement in Undergraduate Research', Hannah Dickson was keen to put her study into practice.
With a blend of entrepreneurial spirit and the research skills gained during her degree, 22- year-old Hannah launched 'Equine Erudition' – a mobile faecal egg counting business.
Said Hannah: " I'm incredibly proud of my Outstanding Achievement award. I worked extremely hard on my dissertation and it's this research that has led me towards my current career path. I loved every minute of studying at Reaseheath, it truly fueled my passion for the equine industry".
Reaseheath College