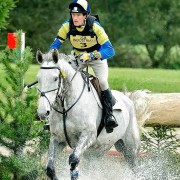 Tyler Cassells
Professional Event Rider & BE Accredited Coach
In his role as a Reaseheath Industry Mentor, Tyler Cassells' wide-ranging knowledge of the equine industry is of huge benefit to our HE students.
Said Tyler: "I see my role as being someone outside of the college environment that the students can approach. This is a tough industry, but there are many possibilities and I try to make the students aware of these options to broaden their horizons."
Tyler, who in 2011 was selected for both the BEF Excel Talent Programme and the Talented Athlete Scholarship Scheme, studied at Reaseheath part-time and, in 2013, completed his Foundation Degree.
"I loved my time at Reaseheath, I tell my students that I've never looked at a horse's leg in the same way since those dissection sections! It gave me so much more understanding of how a horse's body works," said Tyler.
On leaving Reaseheath, Tyler continued to study via distance learning with Warwickshire College and he graduated in 2014 with a BA(Hons) in Equine Science and Management. The same year, he complete his first CIC*** at Blenheim Palace International Horse Trials with 'Grandslam'.
Reaseheath College