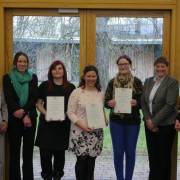 Freja Woodward and Becky Webb
Undergraduates collaborate on riding school research project
Two equine science graduates took part in a collaborative British Equestrian Federation research project as part of their undergraduate dissertations.
Freja Woodward and Becky Webb had the opportunity to work together on a project for riding schools, as part of the BEF's 'Advancing Equine Scientific Excellence' (AESE) initiative.
Freja's research focused on 'increasing participation in riding schools' whilst Becky looked into 'loyalty to riding schools', working within an overall project title of 'Attracting and Retaining the Modern Day Rider'. Another aspect to the project involved exploring 'what a riding school may look like in 2026'.
The pair picked two riding schools in the North Staffordshire area as case studies – one that had been running for over 15 years and the other that had only been operating as a riding school for little over 12 months. They gathered data through conducting questionnaires, focus groups and interviews with the owners of the riding schools, their clients and other industry professionals from the BEF and British Horse Society (BHS).
The culmination of the project saw both undergraduates present their findings and a detailed poster to a panel of industry professionals at the BHS headquarters.
Said Freja: "Overall this was an interesting and challenging experience that improved our ability to work to a deadline. It proved a fantastic opportunity to make new industry contacts along with enhancing our and research skills."
Freja Woodward presentation
BSc (Hons) Equine Science
Reaseheath College