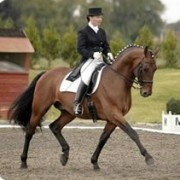 Sue Bradshaw
International Dressage Rider & Trainer
The expertise of Sue Bradshaw was called upon when Reaseheath were formulating their BSc (Hons) degree programme in Equine Science and Sports Performance.
From the outset, the aim of this degree was to produce a course which would meet the needs of the performance horse industry. Sue, who is trained by Carl Hester, was contacted along with other experts, and asked what transferable skills and industry knowledge were essential for students wanting to gain employment in this field.
Sue sat on the development and validation panels for this degree where the content and industry links were decided upon for all of the modules. She now acts as a Professional Adviser for the ongoing development of this degree programme.
"I was pleased to be involved with the development of a course that included a large amount of time spent out in the work place. It is essential for students to experience 'real-life' in the equine industry," said Sue, who often has students visit her own yard on the Wirral.
Sue's 17-year-old daughter Emily, is following in her footsteps and is now based with Dutch trainer Anne Van Olst - who is the breeder of dressage megastar Valegro.
Emily is a member of the GB Junior Squad and has just represented Great Britain with her horse 'Remarkable' at the Nieuw – En Sint Joosland CDI in Holland.
Reaseheath College