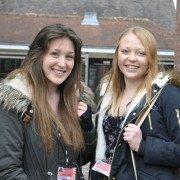 Michelle Hand and Zoe Greenwood
Two HE students from Reaseheath have been awarded with the British Equestrian Federation's competitive internship to go to Virginia Tech's Middleburg Agricutural Research and Extension Centre (MAREC).
Michelle Hand and Zoe Greenwood, who are both 21, qualified for this valuable opportunity by submitting 3,000 word essays on subjects involving the health and welfare of equines.
These students, who will complete their BSc (Hons) in Equine Science this summer, were shortlisted and interviewed by a judging panel that consisted of Prof Graham Suggett OBE (former Director of the National Equine Database, former BEF Director of Equine Development and Principal Emeritus of Warwickshire College), Dr Bridgett McIntosh (MAREC) and Dr Georgina Crossman (BEF Research Consultant).
It is the first time in the history of this internship, that two candidates have been deemed to be equally worthy.
Dr Crossman commented: "Michelle and Zoe were both outstanding candidates with unique qualities who we felt would equally benefit from this opportunity."
MAREC is a 420 acre equine research and education facility in Virginia, USA. The three month internship will allow our undergraduates to develop research and academic skills in a practical, hands-on, environment.
As interns, Michelle and Zoe will be involved in the advancement of equine research in the Sport Horse and Thoroughbred industries.
Michelle said: "This will be an amazing opportunity for us to learn alongside acknowledged experts and to gain practical skills working with some fantastic horses. We're both really excited about the trip".
Reaseheath College