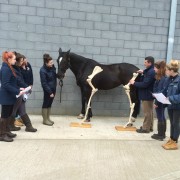 Phillip Adams
Phillip Adams graduated from Reaseheath with a BSc (Hons) in Equine Science whilst he was working as a member of staff on our Equine Unit.
Phil, who holds the BHSAI certificate along with a Diploma in Education and Training, decided to return to education as a mature student after many years of working as an Operations Manager in a large communications company, where he was responsible for managing a team of people as well as meeting company objectives.
Previously to this, Phil worked at the Yorkshire Riding Centre under Jane and Christopher Bartle before he relocated to Italy to become a Yard Manager and Federal Rider based in Florence.
Phil's broad experience of the horse industry fostered a keen interest in gait analysis, anatomy, biomechanical efficiency and the way in which each discipline can affect a horse's physiology.
Phil is currently completing an MSc in Veterinary Physiotherapy and, since September 2015, he has been course manager for the Integrated Masters in Veterinary Physiotherapy and the BSc in Animal Therapy at Writtle College in Essex.
Reaseheath College