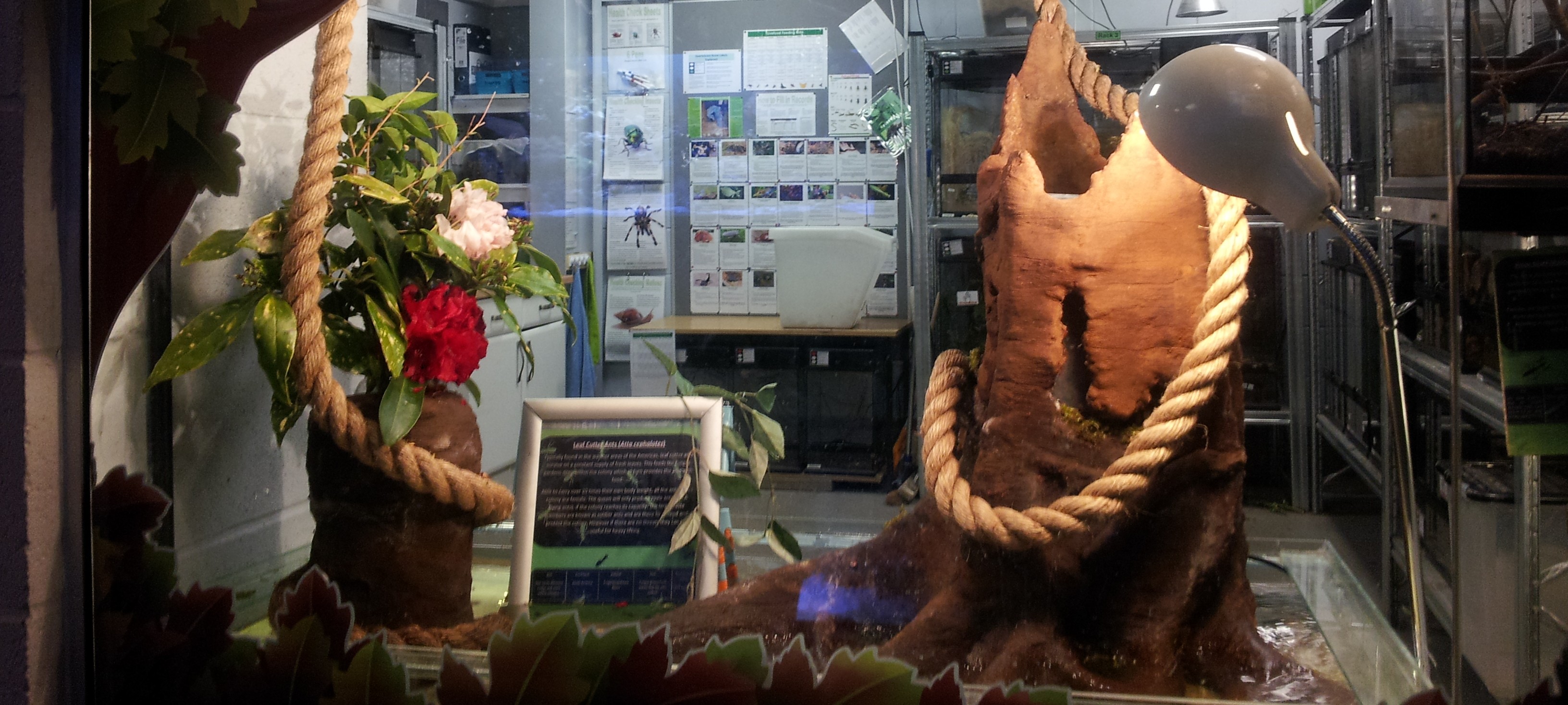 Reaseheath Herpetological and Entomological Society (RHES) were set a project to redesign and build the Leaf Cutter Ant (Atta cephalotes) display at Reaseheath College/Zoo by Keeper Instructor Lauren Lane. This project would help them form one of their main aims of the society to develop skills for industry. Little did RHES know that designing an exhibit for leaf cutter ants was one of the hardest exhibits to create with their will to escape and sensitivity to chemicals.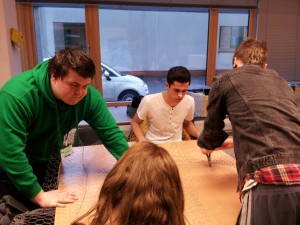 The leaf cutter ant display prior to RHES redesign was an exhibit that cost around £9.00 to construct with recycled tanks, bricks and rope. The society were only given a few concepts they had to include these were to make room for other species to be displayed, the ants set up was to look more natural and less clinical, the ants should at some point come close to the window for the visitors to enjoy and exhibits should be on different levels for when the zoo is open to the public so small children can enjoy the invertebrate display window. From this the group got together and came up with some ideas. These were drawn on a white board and a very basic list of items needed was drawn up. Keeper/Instructor Joe Chattel was drafted in to teach RHES the basics of rock work so they can make their tree buttresses. After one slot with Joe by the following week they had structures ready to be concreted.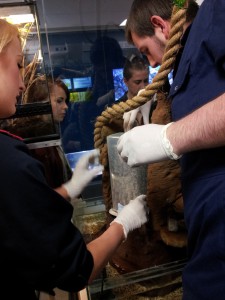 We discovered through this project that student Elliot White, member of RHES is incredibly talented when it came to art and design. The buttress that he shaped at home in his own time is the one that currently houses the fungus gardens for the ants. RHES also visited London Zoo to speak to invertebrate keeper Jeff Lambert about key issues when working with Leaf Cutter Ants, this assisted them with their design.
RHES started to piece together the exhibit in between lessons and during their weekly meetings. New rope was suspended from the ceiling extending out into the room, a stand was created with tanks that can be interchangeable so more species can be on show, and security measures put in place to prevent escape in the form of copper coils painted with fluon and interpretation added to bring the display together.
The new leaf cutter ant exhibit is now up and running with other species such as Indian social spiders and ferocious water bugs now housed in the refurbished invertebrate display window ready for open day. I would like to personally thank RHES for putting in so much hard work and enthusiasm, Joe Chattell for passing on his skills to RHES and Jeff Lambert at ZSL for his advice and support to the society. We look forward to hearing your feedback on the new exhibit.
https://www.reaseheath.ac.uk/wp-content/uploads/2013/05/New1-e1369397820628.jpg
1468
3264
reaseheath
https://www.reaseheath.ac.uk/wp-content/uploads/2019/09/reaseheath-logo-web-header-1.png
reaseheath
2013-05-24 13:15:36
2013-10-17 14:24:00
Project Atta for RHES