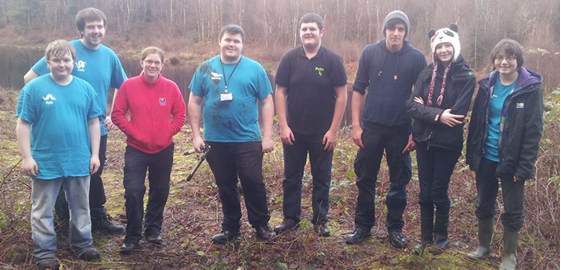 RHES undertake Habitat Restoration for Rare Dragonfly
The first Tuesday of the month is going to be a busy one for RHES (Reaseheath Herpetological and Entomological Society). The group are to undergo a native species project for a reptile, amphibian or invertebrate. Last year they contributed to the Fen Raft Spider Rear and Release Program and also took to the North Wales Coast to survey one of Britain's rarest toads, the Natterjack Toad.
This year they will be revisiting the Natterjacks, assisting some Sand Lizards and restoring habitat and relocating one of Britain's rare dragonflies, The White Face Darter Leucorrhinia dubia. While the weather is not optimum, the group will be restoring habitat in Delamere Forest assisting the Cheshire Wildlife Trust. This includes clearing scrub land and making log piles following the creating of a large water body. Once the weather improves the group will be able to assist with the translocation of the White Face Darter nymphs from successful sites to newly created sites.
An RHES member commented on the project; "Delamere Forest is right on our door step, so it's great that we can get out there and help conserve its many habitats and the species within it."
Once weather improves RHES will also be assisting with the surveying of a very rare spider in Delamere and the necessary framework for the species conservation. We would like to thank Katie Piercy (Wildlife Trust Delamere Mossland Officer), all members that attended and Joe Chattel for driving.
Reaseheath Herpetological and Entomological Society
https://www.reaseheath.ac.uk/wp-content/uploads/2014/02/RHES-rare-faced-darter-Delemere.png
277
561
Sophie Tatton
https://www.reaseheath.ac.uk/wp-content/uploads/2019/09/reaseheath-logo-web-header-1.png
Sophie Tatton
2014-02-05 12:27:48
2014-10-31 09:10:31
RHES undertake Habitat Restoration for Rare Dragonfly